1922:  October 7, 1922, Ida Peterfy was born in Kosice, Czechoslovakia to a Hungarian family (before 1920 this city was part of Hungary and was known as
Kassa, in the current day it is known as Kosice, Slovakia).   She was the only child of Dr. Joseph Peterfy, a professor of law and history and later director of the city library: and the fourth daughter of her mother, Ida Kristof, who had been widowed during World War I.
1925:  A smiley and determined child, Ida knew God was close to her family; they knew Him, trusted Him and referred to Him in everyday events, but they were not overly pious.
In her own words:
"Why did God give me the gift of Faith?  Out of His 100% love, so that I would know Him.  We cannot love someone we do not know, and therefore, I think that the gift of Faith precedes any other gift.  That gift was given to me very early in my childhood.  We were not very religious at home, just 'nice and Catholic'.  Dad did not receive the Sacraments until I became a religious, and I did not talk him into receiving them.  Mother became a frequent communicant after I became a religious also, but not before."
1930:  Ida attended the Ursuline Sisters' elementary school.  Religion was taught by a priest, but it was the Sisters who were quite influential in preparing her for First Communion.
In her own words:
"My relationship to the 'good God' became much more personal as I learned about Him when we were preparing for First Holy Communion in the second grade.  First Communion made a deep impression on me.  The Ursuline Sisters' Mother Gonzaga who read to us during embroidery class about the Irish persecution was of help.  The faith of the Irish people, the reality of their risking their lives to have Mass in their homes helped me to realize the preciousness of the Eucharist."
Ida was also a charter member and first captain of the Sacred Heart League which was established at that time.
1933:  Ida begins Gymnasium (5th -12th grade) with a new teacher, Elizabeth Hanka.  In addition to teaching, Elizabeth also begins a Girl Scouts Troop, of which Ida is a charter member.  For Hungarian minorities in Czechoslovakia, religion entered every aspect of life.  In the Girl Scouts movement, Ida shared the common ideal of loving God and one's neighbor.  They were active in many areas, often helping the poor with food and clothes, but the highlight was their summer camp.  She learned ecumenism in these camps where Catholics, Protestants and Jews all prayed together each day.
1938:  Great joy is felt through the city when Kassa is annexed to Hungary again and the
Hungarian minority's life changed.  Ida and the
scouts who had felt the burdens of being a minority, decided to be as good to the Slovaks as they had wished the Slovaks would have been to them.
1939
Due to her leadership and dedication, Ida is chosen as one of 12 leaders to represent Hungary for the Pax Ting, the first Girl Guide and Girl Scout World Camp held in Gödöllő, Hungary in 1939.  She is also part of the honor guard which stood in front of the governor, Miklós Horthy and Princess Sybilla of Sweden.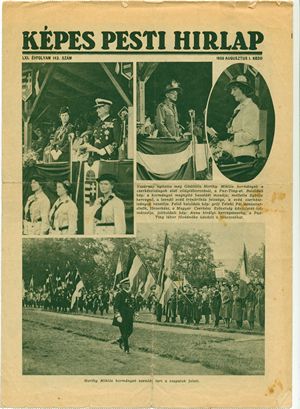 In the summer of 1939, the Girl Scouts were asked by the mayor of Kassa to direct a two week camp for 120 girls.  When asked by her teacher if she could substitute her as Camp Director, Ida abandons her promising, fun-filled vacation at a lake resort, in order to take the lead.  She is 16 years old.
The religious knowledge of the children was very sporadic.  Ida is challenged to introduce the Lord to them and change the children's fearful and ignorant attitudes about God.  The need to teach them in a gentle and effective way sparked Ida's imagination to find approaches that were attractive to the children and captured their attention.  To make the Jesus of the Bible come to life, she told them Bible stories to introduce them to God who is loving and caring, illustrating the stories with available props (like twigs) moving them as the characters of the stories.  This was the beginning of her unique catechetical charism for teaching religion (now known as the Five Step Illustrated Method).
Ida, only a high school student, is invited to participate in the Prohaszka Circle, a study group for university students conducted by Msgr. Nicholas Pfeiffer.  They studied the teachings of Thomas Aquinas and the social encyclicals:  "Rerum Novarum" and Quadragesimo Anno."  Ida then organizes the high school branch of the Prohaszka Circle.